4.2.2 Alternative method using the MS4W 'Nullsoft Scriptable Install System' (NSIS) installer
Maptools.org provides a NSIS installer, to make it easier to install and configure MapServer and related associated Geospatial software. NSIS is used by many other FOSS4G packages, so the hope is that all communities can join together to create a single installer. The installer requires you to have an active internet connection. The installer allows you to make configuration choices that you don't get when using the zip file version, but at present it doesn't use the most up-to-date version of MS4W so you will also need to download the latest MapServer binary and do a manual update.
To run the MS4W NSIS installer, you must first download the setup.exe file ( http://www.maptools.org/ms4w/index.phtml?page=downloads.html).
For our example installation you only need to use the default installation "Without Add-on Packages" option. Next, you have the option to change the location you install the MS4W files to; by default this will be the root of C:\. Finally you get to choose which port to run Apache on; you should use the default (port 80) unless you already have a web server operating on that port on your server.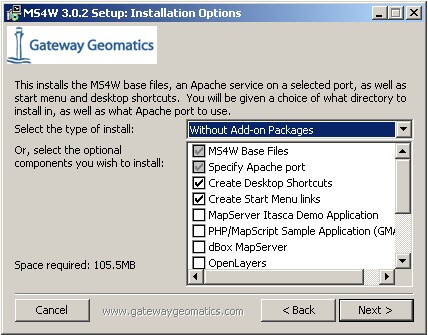 After the installer has finished running you should have a file structure exactly the same as that installed by the MS4W zip; with Apache (as "Apache MS4W Web Server") installed and running. If you changed the port or install path location, this will already be configured for you.
Section last modified: 11 June 2013