Why
The OneGeology concept emerged in 2006. Like most ideas which catch the imagination, it was simple, basic and unifying, but most of all it was timely.
Behind OneGeology was a set of principles: Geological surveys and geoscientists around the world have a responsibility to:
make accessible the best geological and other geoscience data they have now.
work towards consistent standards for data access – schematic interoperability.
enhance and increase the use and usability of their data.
The objectives of the initiative follow logically from there:
make existing geological and other geoscience data accessible in whatever digital format is available in each country.
transfer know-how to those who need it, adopting an approach that recognises that different nations have differing abilities to participate.
stimulate a rapid increase in interoperability, achieved through the development and use of the web mark-up language, GeoSciML. Find out more about GeoSciML.
promoting geoscience and raising awareness of its economical and societal importance among the wider public.
What are the benefits of OneGeology?
Involvement in the 3D geodata standards development
Contribution and access to the expertise and experience of international geoscientists and informatics experts (knowledge transfer)
Leverage Members' research, survey and service contribution through its global presence
Build upon 20+ years of geo-IT and web development (state-of-the-art expertise)
Distributed dynamic system – serving the data by data provider or using a "buddy" survey
Use of open global GeoInformation standards (WMS and WFS) to various topics, which facilitate the cross-border and/or global data usage analyses and modelling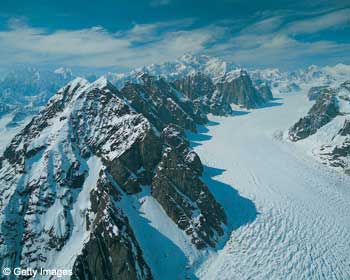 Geology matters!
Think about it, geology is important. We are desperately short of natural resources in many parts of the world and suffer too often from the devastating effects of natural hazards. Many economies are based on exploiting natural resources and geology lies at the heart of many of today's most pressing environmental issues. So knowing the rocks beneath your feet is pretty crucial. Add this to the growing public interest in the environment and in particular climate change, solving the problem of excess CO2, the potential occurrence of geohazards, or where energy is going to come from in the future. You then begin to understand the importance of geology.
Why do we need OneGeology now?
The technology, skills and culture of the majority of the organisations who will be involved are now in place.
We can capitalise on the International Year of Planet Earth 2008 and on this organised consortium of geological surveys around the globe to get every nation to make a commitment to deliver their part of the global geological jigsaw puzzle.
This way every nation (through its geological survey), can make a practical contribution to doing something global and making a difference!
We've achieved a sginificat shift in the development of 2D geological standards and it's time for the next step – to tackle also standardisation in the 3rd dimension.
Challenges of contemporary society reach beyond national borders and to effectivelly address them OneGeology provides efficient platform for the cooperation.
Currently participants are tackling similar challenges sporadically and by joining resources, the goals could be achieved faster and with better resource efficiency.
What are the reasons behind OneGeology?
the need to understand our global environment to solve global environmental problems at a global scale.
for geological surveys to provide a tangible deliverable for the benefit of society involving all nations and raising the profile of geoscience.
because digital geological data is often of variable quality and consistency. The aim is to bring it all together, making it easily accessible and creating an important source of global geological map data.
we can utilise geo-spatial data, satellite imagery and computing systems that we have never had before.
we can create an aspirational benchmark for all nations to attain.
the geoscience community needs to accelerate the development and spread of simple, essential digital geological map standards.
the consortium is transfering know-how, reducing the length and expense of the learning curve, while at the same time producing maps and data that will attract interest and investment.
increasing the openness and richness of geoscience data from individual countries to create a multi-thematic global geological data resource on the rocks beneath our feet. Authoritative information on hazards and minerals will help to prevent natural disasters, explore for resources (water, minerals and energy) and identify risks to human health on a planetary scale.