New OneGeology organisation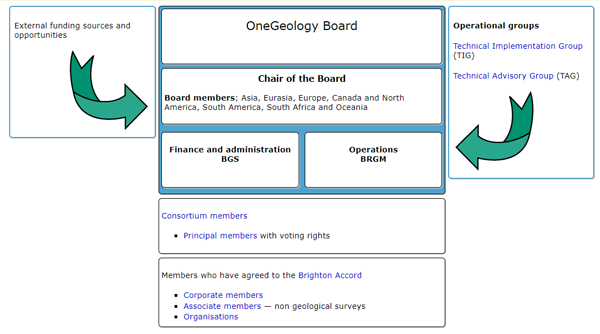 Read the report of the 'Future of OneGeology' meeting.

View scheme details and how to apply to be accredited
Financial sponsors are of vital importance to the future progress of OneGeology. See our Sponsors page to see who is currently ensuring the success of OneGeology.

Recepción a OneGeology
OneGeology es una iniciativa internacional de todos los institutos geológicos del mundo y un proyecto líder en este el año internacional de la tierra. Su objetivo es crear un mapa digital dinámico e interactivo accesible a través del Internet, creando así un punto de encuentro para el acceso a información geológica. Gracias al entusiasmo y al apoyo de todas las naciones participantes, esta iniciativa ha progresado rápidamente. Los institutos geológicos y los muchos usuarios de sus datos, están entusiasmados con este proyecto tan innovador. Estas páginas proveen la historia de la iniciativa así como información actualizada de su progreso. Te invitamos a explorar nuestra página y te damos la bienvenida a OneGeology. ¡Disfruta de tu visita!