Organisation
The organisational structure will be managed by a Steering Group composed of representatives from geological surveys and organisations and will link to an International Coordinating Committee, comprising global geoscience and related bodies.
OneGeology will proactively interact with the wider geospatial community. A Secretariat has been established to ensure the coordination and continuity of the initiative. This will be based in the British Geological Survey until December 2008.
OneGeology has also set up task groups to achieve its goals. The first of these groups is the 'Technical Working Group' which held its first meeting in May 2007. An 'Operational Management Group' held its first meeting in November 2007.
Organisational Chart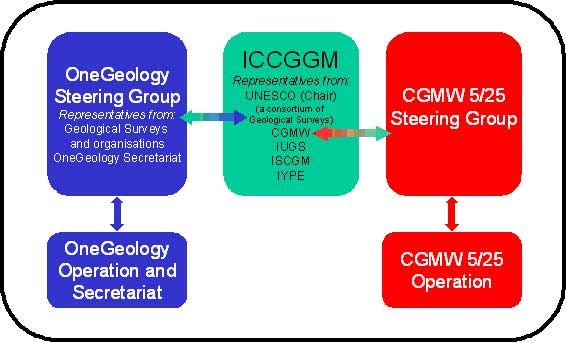 OneGeology Organisational Chart: the proposed international governance structure
Explanation of acronyms:
CGMW: Commission for the Geological Map of the World
ISCGM: International Steering Committee for Global Mapping
IUGS: International Union of Geological Sciences
IYPE: International Year of Planet Earth
UNESCO: United Nations Educational, Scientific and Cultural Organisation