New OneGeology organisation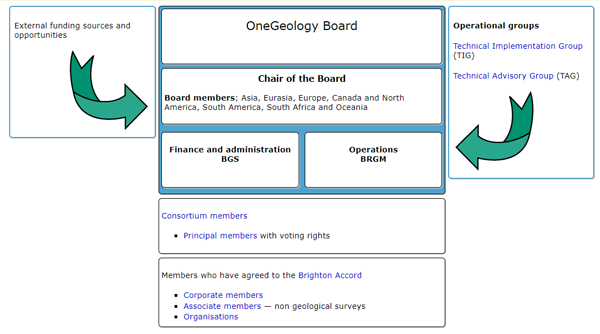 Read the report of the 'Future of OneGeology' meeting.

View scheme details and how to apply to be accredited

Follow OneGeology on Blogger and Twitter.
ESRI Grant Offer

To support participants of OneGeology, ESRI is offering one copy of the ArcGIS system to support the technical backbone of this infrastructure.
Bienvenue sur OneGeology
OneGeology est une initiative internationale engagée par les services géologiques du monde entier. C'est également un projet phare de l'année internationale de la planète Terre. L'objectif de cette initiative est de rassembler dynamiquement à l'échelle mondiale les cartes géologiques numériques fournies par chaque pays à l'échelle nationale. L'enthousiasme et le soutien des pays participants ont permis de faire progresser rapidement cette initiative qui recueille l'adhésion des services géologiques et des utilisateurs de données. Toutes les informations utiles sur l'initiative OneGeology et l'avancement des travaux sont disponibles sur ce site. Nous vous y souhaitons la bienvenue et vous invitons à consulter ces pages.