New OneGeology organisation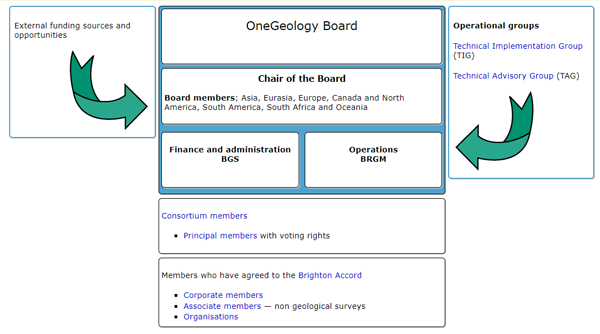 Read the report of the 'Future of OneGeology' meeting.

View scheme details and how to apply to be accredited

Follow OneGeology on Blogger and Twitter.
ESRI Grant Offer

To support participants of OneGeology, ESRI is offering one copy of the ArcGIS system to support the technical backbone of this infrastructure.
欢迎光临地质一体化
地质一体化是地质调查界的一项国际性的创意活动,而且是'国际地球年'的一项旗舰项目。其目标是在网络上创建一个开放的动态世界地质地图数据库, 为大众提供地质信息。在各个参与国的热心支持下,这个创意发展迅速,地质调查界和他们众多的数据用户对这个前所未有的项目称赞不已。 这个网页将向您提供创意产生的背景以及进展的最新情况。我们诚邀您阅览我们的网站并欢迎光临地质一体化系统。祝您访问愉快!